Powder Coating Powder
now browsing by tag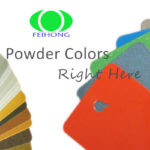 With more than 40 years of experience in the field of powder coatings, JOTUN is committed to providing its customers with a full range of coating solutions, including products, services and technical support.As a leading international coatings manufacturer and supplier,JOTUN creat higher value for its customers with excellent, stable and sustainable product quality. Since the beginning of 2016, the prices for the main raw materials of powder coating have continued to rise, the average increase has exceeded 40% and seemsRead More …
Exterior Appearance Identification: 1. Hand Feel: Should feel silky smooth,loose, floating, the more smooth loose of the powder, the better of the quality, on the contrary, powder feel rough and heavy, poor quality, not Easy spraying, powder falling twice more wastage. 2.Volume: The larger of the volume, the less filler of the powder coatings, the higher of the cost, the better the quality of the powders. On the contrary , the smaller of the volume, the higher content of theRead More …
Contact us for powder coating powder updated prices . Sales Office RM458,No.1 Building,Chuang Ye Yuan,No.8 Huayuan Road 210042 Nanjing City,China Tel:+86-138-138-95694
Dear All partners,This is the last few days to place your order in 2013! Please check your inventory of Powder Coatings & place your order no later than Dec26 for shipping this year.
Powder coating supplies – Powder supplies : -Epoxy powders -Hybrid powders -Polyester TGIC powders -Polyester TGIC free powders Features: Epoxy Powders Excellent Anti-Corrosion Excellent  chemical resistance High mechanical performance Recommended for interior Epoxy-Polyester/Hybrid powders Good chemical resistance Good mechanical property Excellent flexibility Recommended for interior Polyester-TGIC powders Excellent UV resistance Excellent flexibility Excellent overbake stability Recommended for exterior Polyester TGIC-Free powders Excellent UV resistance Excellent flexibility Good overbake stability Recommended for exterior
Powder coating supply is one of the main services from Jinhu Color Powder Coating Co.Ltd .They mainly supply the powder materials for powder coating process .The powders include epoxy system ,polyester TGIC system ,polyester TGIC free system ,polyurethane system , silicon resin system and acrylic system . Except powder coating supply service , "Jinhu Color." offers transport service for powder materials ,color matching service for special requirement from customers,technical knowledge training service,powder coating application training ,etc. With our strength team work ,moreRead More …
We supply most colors and texture for your powder coating choice . Powder Coat Colors : RAL colors Pantone color Wrinkle texture Sand texture Antique finish Hammer tone finish Crocodile skin finish River vein texture Metallic pearl finish Clear transparent finish Marble stone like finish For more powder coat color , please refer to our color catalog .
Plasticizers are used to control the film formation process of coatings based on physically drying film forming materials. Proper film formation is essential in order to meet demands on specific coating properties such as dry film appearance, substrate adhesion, elasticity, in combination with high level of hardness at the same time. Plasticizers function by reducing film formation temperature and elasticize the coating; plasticizers work by embedding themselves between the chains of polymers, spacing them apart (increasing the "free volume"), andRead More …
Of the canning process, the tank internal use of pre-printed iron, coated paint to give to stay side seam welding Department Food Liquid Coatings, Printing, generally coated to stay side is more difficult, many plant before seam welding The scraping edge processing, does not affect the quality of the seam welding. Also complement coated weld seam welding, the process is more complex, but the quality is not easy to guarantee. Increasingly popular in recent years, powder coating paint process isRead More …
With the growing competition in the appliance industry, household electrical appliance enterprises will inevitably choose to ferret out potential. Through new technologies, reduce the cost of large-scale use of powder coatings in refrigerators, air conditioners, washing machines and small appliances and other products in the production process has also become an important part of enterprises to improve their market competitiveness. Today, household electrical appliance enterprises began to try a low-temperature fast curing powder coating powder. The analyst pointed out: becauseRead More …