Coating Korea Exhibition and Tech Seminar Opens in BEXCO, Busan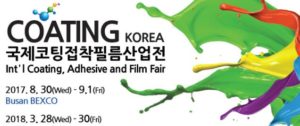 The 2017 International Coating, Adhesive, and Film Fair(hereafter stated as Coating Korea) is set to open in the BEXCO Exhibition Hall 1 in Busan this coming August 30th to September 1st. Coating Korea is a industry specialized exhibition that showcases the latest technology and products in coating, adhesive, and films, and is the greatest coating exhibition in the nation. The exhibition has opened every March in Songdo Convensia starting from 2010, and the International Coating, Adhesive, and Film Fair, which has been based around being the representative exhibition of the industry, is set to open in BEXCO in Busan starting this year, with the Yeongnam Region as the target, where Busan, Ulsan, Changwon, and other chemical manufacturing industries are clustered.
Busan, where the exhibition is set to open, is close to the ocean where the shipbuilding and offshore plant industries are especially developed, and is also known has the center of tanning, textile, and other material industries. Other high tech industries, such as aeronautics or defense have also been on the rise as of late.
Recently, the 100 Major Government Projects detailed plans to make Busan the North East Asian maritime capital, make Ulsan the capital of futuristic global industries, and set Gyeongnam as the center of South East Asian Economic Innovation. This will serve to form a higher value-added industries and smart manufacturing base cluster using the offshore plant industries and existing manufacturers to promote the industries of Busan, Ulsan, and Gyeongnam.
As a result, "Coating Korea 2017" has selected coatings, adhesives, tapes, films/sheets, ceramic/ chemical materials and related chemical equipments, aquatic corrosion resistance products, waterproofing products, and other products that are essential to all manufacturing industries to showcase in the exhibition. Not only relevant domestic companies, but also China and Taiwan, and Japan is set to showcase their excellent products and technology through Coating Korea, and the Nano Technology Research Association will also participate in the exhibition and have a combined business promotion, showcasing the nanomaterials and nano-integrated products of member companies. It is expected to be a venue where you will be able to see the industries that will be the cornerstone of the manufacturing industries of Busan, Ulsan, and Gyeongnam.
On August 31st, the second day of the exhibition, a [Second half of 2017 Coating Industry and Direction of Technology Seminar] will be held, which will be hosted by Naver Technology Café Good Coating and Functional Chemical Materials Research Association, a part of KISTI Specialized Knowledge Research Association. This seminar, which comprises of 'Direction of Responsive Coating Technology and Industrialization Prospect' of Dr. Jongmok Park, a researcher of Korea Research Institute of Chemical Technology/ 'Direction of Coating Research and Industrial Application using Multilayer Thin Films via Layer-by-layer Self-Assembly' of Professor Chunghyeon Seong of Dong-eui University/ 'Direction of Electrical Application PAI, PI, Silical Sol Hybrid Insulation Material and Industrialization Prospects' of Dr. Dongpil Kang, a researcher of Korea Electrotechnology Research Institute/ 'Adhesive Process Technical Innovation and Commercialization' of Dr. Jehwan Cheon, a researcher of the Korea Institute of Footwear & Leather Technology will be held for free with the sponsorship of E-sang Networks, who will host the International Coating, Adhesive, and Film Fair, and is currently taking pre-registration applications..
During the exhibition, the participating companies' technology seminar and product promotion, chemical safety and environmental law related seminar will also be held over 3 days, so the buyers visiting Coating Korea will be able to get various information and determine the direction of the market.
A spokesperson for DAEMI, a water-soluble adhesive manufacturer and participant of Coating Korea, said, "We made the decision to participate as the exhibition is to be held in one of Korea's internationally and industrially important city, it will help in the promotion of products and increase exports," while the laser measuring instrument manufacturer, ProSen, said "We will showcase the Coatmaster product, which is the nation's first non-contact opaque coating thickness measuring device, at this year's Coating Korea. We will be showing demonstrations and hold tests, so we hope interested buyers will come to see for themselves."
E-Sang Networks, the host of COATING KOREA, says "Looking at the participating companies and showcased products of Coating Korea Busan shows that there is a different industrial aspect than the one seen in Songdo, Incheon. There are a high number of products and technologies that are related to the specialized industries of the Yeongnam Region. ", and continued to say, "As this is the first coating exhibition in Busan, it is getting a lot of attention from the industry. We will work to make sure that many people can get helpful information through Coating Korea."
Currently, the Coating Korea Homepage is taking participation applications through a free pre-registration, and is giving more information on applying to the "Coating and Adhesives Fall Free Seminar". More information can be found by the homepage of (www.coatingkorea.com) and can register free on website.
[Please contact us, if any doubt]