The coil coating line
The continuous process of applying up to three separate coating layers onto one or both sides of a metal strip substrate takes place on a coil coating line. These lines vary greatly in size, with widths from 18 inches to over 60 inches and speeds from 100 feet per minute to 700 feet per minute; however, all coil-coating lines share the same basic process steps.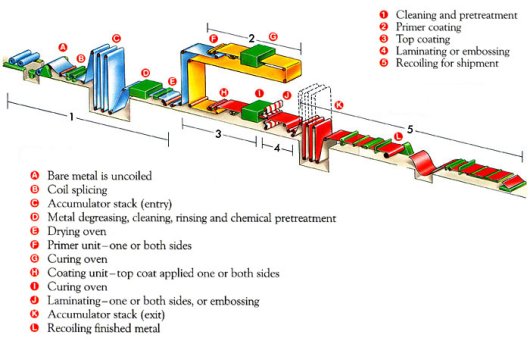 A typical organic coil coating line consists of decoilers, entry strip accumulator, cleaning, chemical pretreatment, primer coat application, curing, final coat application, curing, exit accumulator and recoilers.
The following steps take place on a modern coating line:
Mechanical stitching of the strip to its predecessor
Cleaning the strip
Power brushing
Surface treatment by chemical conversion
Drying the strip
Application of primer on one or both sides
Passage through the first curing oven (between 15 to 60 seconds)
Cooling the strip
Coating the finish on one or both sides
Passage through the second curing oven (between 15 to 60 seconds)
Cooling down to room temperature
Rewinding of the coated coil